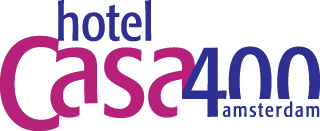 Eerste Ringdijkstraat 4, 1097 BC Amsterdam (map with directions)
Hotel Casa 400 Amsterdam is located in the Eastern part of Amsterdam on the border of the city center. The city center is only a few minutes away from the hotel. The brand new Casa 400 was officially opened in September 2010. We strongly encourage attendees traveling from out of town to stay with us in the great intimate setting. Our conference rate has expired and current rates are €125 per night.
Reservation
To book by phone, you must call the hotel Mon – Fri. at this number: +31 020 207 8000. Be sure to mention you're reserving your room as part of the Quantified Self Europe Conference (and speak to Janick) in order to receive a complimentary breakfast each day. You may also use this link to book online.
Traveling to the Casa 400
You can take a taxi to the hotel for about €45 from Schiphol Airport
You can also take a shuttle: Connexxion Schiphol Hotel Shuttle
You can take the train to Amsterdam Central Station, from there you have to take the train to Amstel Station and then it is only a 5 minute walk to the hotel. Go from Schiphol > Amsterdam Central Station > Amsterdam Amstel Station (2 changeovers) (€ 6,10 for a one-way journey)
If you are arriving at night, there are buses running until 3AM. First you have to take bus N30 to Station Bijlmer ArenA. From there you have to transfer to bus 355 and get off at Prins Bernhardplein and then it is only a 5 minute walk to the hotel.